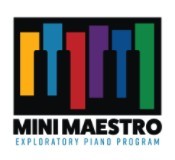 Learn to play the piano with ease in our fall season! This fall, we will explore student's artistic piano playing abilities, piano theory, keyboard skills, and piano fundamentals. Ages 7 – 19.
Mini Maestro is a 10 week, 45 minute exploratory instrumental piano program for youth, ages 7 to 19, with up to 7 students per session. This fall, students will learn to play with two hands and will become performance ready for our show in October!
Cost
$250 for full 10 weeks at 1 session a week
Program Details
Will begin October 10, 2022
Location:
UNITY's Program and Training Center
Located on Ivy Tech Campus – Room CC1743
3800 N. Anthony Blvd.
Fort Wayne, Indiana
If you have any questions, please feel free to reach out to our Programs Manager at scurry@upaf.com!