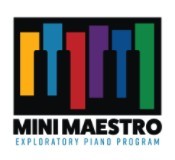 Learn to play the piano with ease during our Rising with Purpose season! This season, we will explore student's artistic piano playing abilities, piano theory, keyboard skills, and piano fundamentals. Ages 7 – 19.
Mini Maestro is a 10 week, 45 minute exploratory instrumental piano program for youth, ages 7 to 19, with up to 7 students per session. This season, students will learn to play with two hands and will become performance ready for our show in May!
Cost
$250 for full 10 weeks at 1 session a week
Program Details
Will begin October 10, 2022
Location:
UNITY's Program and Training Center
Located on Ivy Tech Campus – Room CC1743
3800 N. Anthony Blvd.
Fort Wayne, Indiana
If you have any questions, please feel free to reach out to our Operations/Fund Manager at chernandez@upaf.com!