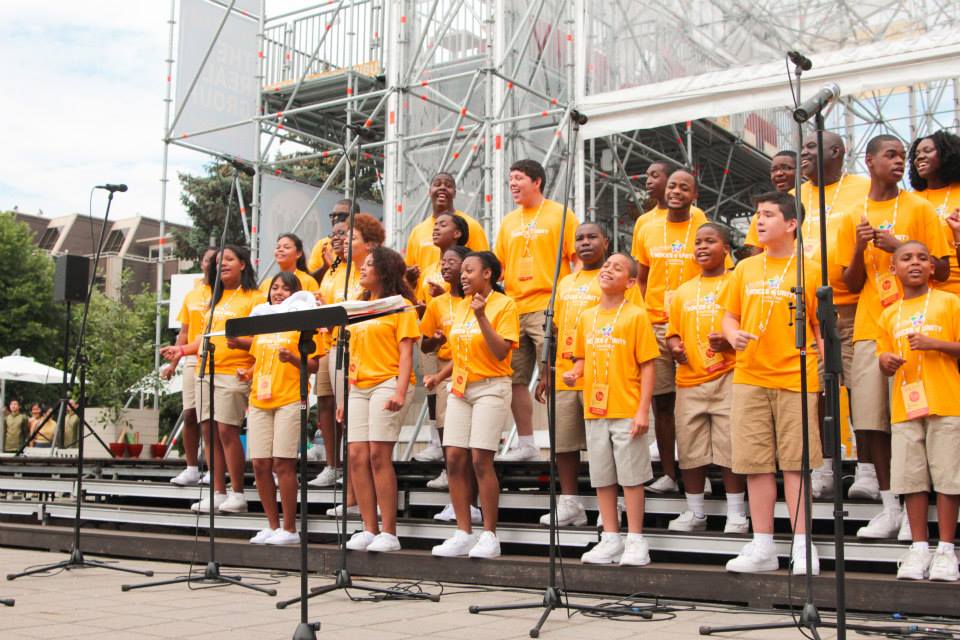 DAY 3: FRIENDSHIP CONCERT AND PARADE OF NATIONS
Our first full day in Riga was absolutely AMAZING! It contained several moments where we literally had the chance to experience snapshots of the world, live and in living color!
The day began with breakfast in the restaurant of our beautiful hotel. Several familiar foods could be found on the buffet, including hard boiled eggs, scrambled eggs, bacon and several pastries. In addition to these staples, fresh vegetables and customary Latvian foods were also on the buffet. Overall, breakfast was delicious! After eating, several members took the time to gather in small groups and rehearse songs that would later be sung in the Friendship Concert in the park. The group was showing they were dedicated and committed to putting forth their best effort.
The choir gathered for a quick rehearsal in the conference room of the hotel after breakfast. The choir rehearsed the song "Happy," by Pharrell Williams. The song's global appeal presented itself when a gentleman who is a conductor for a participating choral group was drawn into the room, and began dancing and singing along with VOU. It was such a fun moment! He even left to bring his family back into the room so they could join the fun, too!
While the choir continued to rehearse, I along with our media man Justin, were greeted by our official World Choir Games Tour Guide, Liva in our hotel lobby. Liva took us to a nearby mobile phone store, "Mobilo Technologico Punkts" to purchase SIM Cards for our phones so we could be able to use them locally. On the way to the store, Liva pointed out the supermarket and the circus, which is open year round! When we arrived to the store, we were greeted by Liva's father with a smile. He was there to help us with translations and making sure the store attendant knew exactly what we needed. With five iPhones on hand, we could only get SIM cards for two phones because of the contracts placed on the phones in the United States. The two phones that were able to take the SIM cards were essentially transformed, and covered under the Latvian network, complete with new phone numbers, only to be used locally for calls and texts.
Once we returned to the hotel, it was time to make our way to the Esplanade Park, where the Friendship Concert would take place. We walked to the park, which, according to our tour guide, Liva, should have been a 5-10 minute walk. It was about a 20 minute walk, considering the number of people we were transporting at once. We were stopped by traffic signs, yet we made it to our venue as a group. Walking is something we spent a lot of time doing on this day, as this was one of our main modes of transportation other than bus. Once we made it to park, the choir went right to the stage. What we thought was sound check, went straight to a concert. The Friendship Concerts are used to highlight the various choirs participating in the competition and give them a platform to sing and promote their groups/organizations. VOU was the first choir to perform! The choir sang two Whitney Houston songs, "I Wanna Dance with Somebody," led by VOU alumna Kamia White, and "One Moment in Time," led by long-time VOU student, Jocelyn Redmon. Both ladies dazzled the audience. The expressions on the audience members faces were priceless. Many people were dancing and singing along. Next, the choir sang "Earth Song: by Michael Jackson, led by recording artist Wayne Starks and then "My Mind's Made Up." The choir exited the stage to a great applause. People came up to us during and after the performance noting that the choir has so much soul, something they felt was missing in many European countries. Andrea, a conductor from Switerland said: "It is so free! Music is from the soul. It's not just about technique. " Many people thanked the group for the performance.
Two other choirs performed, one from Thailand and the other from China. After their performance, surprisingly, VOU was called back for an encore! The emcee called the group back to the stage, and they proceeded to sing "Total Praise" and "Happy, " the end of which the choir exited the stage by going into the audience to sing, dance and shake the hands of those in the audience. It was such a great moment! Mr. White also got the audience to participate by joining in on a familiar tune, "Oh When the Saints Go Marching In." One gentleman began singing the song in Latvian. It was awesome! The emcee said we "saved the day" and was very enthusiastic about the performance.
After the concert, as we were walking, several people stopped our tour guide, Liva, and expressed to her that they really enjoyed our performance and thanked us for being there. She explained to our tour leader, Mr. Chris Stockamp, that people do not just do that on a normal basis. For someone to go out of their way to stop her and say such wonderful comments. She said that is exceptional! We walked to another park, where a market was set up with lots of Latvian goods. Several students took advantage of the moment to buy some souvenirs. We then made our way to the bus stop to catch the bus for lunch. We were on the bus with a choir from China. They shared a song with us, we shared a song with them, and then we joined in song together. We had lunch in the center with several other choirs. We had a great meal of duck and our choice of rice or cooked mixed vegetables, and even had ice cream cones!
By the time lunch was over, it was time to make our way to streets of "Old Riga" to line up for the Parade of Nations. All of the choirs lined up by country alphabetically, and of course, we were near the end. We were near Russian, Romanian, and Spanish choirs, as well as other choirs from the continents of Europe Asia and Africa. We also met other choirs from the United States. One choir from California informed us they had seen videos of us on YouTube, and they were really impressed. We sang several songs and took several pictures while standing in line. Other choirs came over to us, sang and danced along. After about an hour of waiting in the hot sun and muggy air, it was time to begin moving. We started moving and waving our flags with pride for our respective countries, yet showed respect for others and were just proud to be joining together for this awesome event. We were trailed by the high energy group from Venezuela. It was a big party! As we walked the parade path, at least 50,000 people stood along the sides of the streets and even looked on from open windows in the buildings, waving at us! People stopped us to take selfies, and other pictures, as well as to give hugs, handshakes and high fives. We felt like celebrities as we came to the end of the parade.
When the parade was over, we made our way to the bus stop to catch the bus for dinner. While at dinner, several choirs began exchanging small gifts and souvenirs from their respective countries. Once dinner was over, it was time to head back to the hotel.
Today was a jammed packed day, and we were all tired from walking most of the day, but we had smiles on our faces because of the wonderful experiences we have had on our trip thus far. Stay tuned, friends and family! We will rest on Wednesday, in preparation for our first competition in the Gospel Music category on Thursday.
 
See all of the pictures and hourly updates from trip on our Facebook page. You can also follow our journey live on Twitter and Instagram as well as our hashtag#VoicesofUnityRIGA!