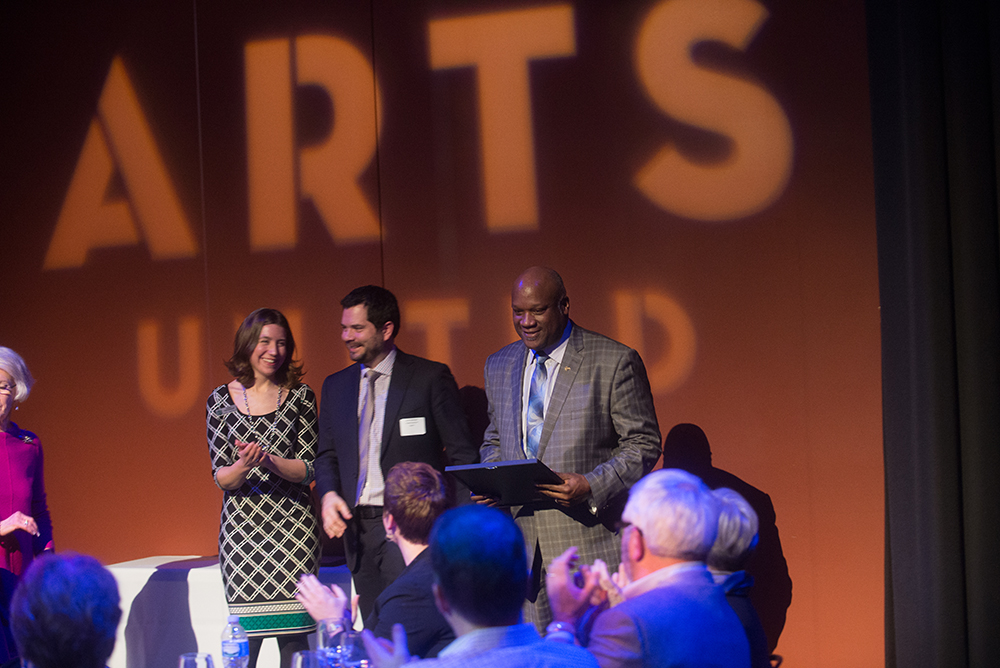 Director, Marshall White has been awarded the Margaret Ann Keegan Award
The Margaret Ann Keegan Award recognizes an individual who has made a significant contribution to furthering arts education in northeast Indiana. Marshall White, is CEO and founder of Unity Performing Arts Foundation and Director/Life Coach for the Voices of Unity Youth Choir.  Mr. White has been shaping and molding young lives for more than 30 years. He is an accomplished musician, music and vocal coach, choral director specializing in teaching the soulful choral singing style and inspiring choir members to reach their ultimate potential by striving for excellence.
White, a trailblazer in the Fort Wayne performing arts arena has steadily taken Unity Performing Arts Foundation and the Voices of Unity Youth Choir (VOU) to higher levels of achievement in the fourteen years of its existence.  Marshall White is no stranger to hard work, consistency, commitment, and excellence.  He dedicated seven years of his life to plan and develop an artistic concept in 1993, that would revolutionize the arts and youth development programming in the 21st century.  This vision was launched in 2000 and has materialized into a multi-faceted performing arts organization with a focus on developing young people in the areas of character, artistry and leadership and promoting soulful arts education, training, and performances in the areas of choral music, dance, drama, creative writing, oratory, and instrumental music.  He has used this artistic platform to attract an underrepresented number of minority students to the arts community in Fort Wayne, and has exposed multiple numbers of non-minority students to non-traditional artistic music styles he calls the soulful art forms.  He believes deeply that arts education should be used as a tool to empower, enlighten, expand, enhance and expose young people of various artistic cultures and music styles.
"Purpose is not designed to be pleasing, purpose is designed to be rewarding", says White.  As he prepares to engage his students into another year of performances, events, and activities which will undoubtedly provide extraordinary opportunities for children that would otherwise not have the access or chance to experience, he gives credit to the Divine for leading him daily into the path of what is right and what is good for our young people.  His work to create ambassadors that will make a difference in this world is most definitely his purpose, while not always easy – it's definitely rewarding to see the positive impact it has on each and every life that is touched.
Margaret Ann Keegan Bio – 1903-1966 Originator
Margaret Ann Keegan was the originator and chairman of the first Fine Arts Festival. Held outdoors at Franke Park, the multi-day festival was free to all who wished to attend and showcased a variety of arts and cultural activity. Festival attendees could see performances by various community arts groups, and it was estimated that as many as 100,000 people would visit the Fine Arts Festival. Other cities larger and smaller wanted to know how it was done. Today, Arts United hosts Taste of the Arts, a free daylong festival to support and promote arts and culture activities year-round.
"Without Margaret Ann Keegan, the festival would never have started." Dick Gibeau, First Executive Director of Arts United. History of Fort Wayne & Allen County, Indiana, Volume 1, Chapter 18, Page 241.