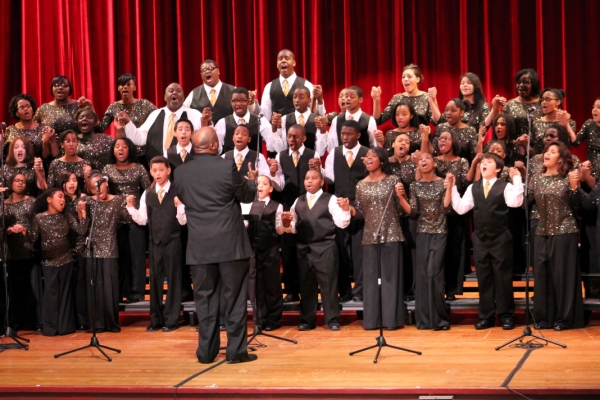 News-Sentinel: Local choir using 'Ambassador' program to support trip to Vatican
When Rebecca Soto joined the Voices of Unity Youth Choir almost seven years ago, she scarcely understood the opportunities that would be presented.
Sure, she knew she would sing and be a part of a growing organization centering on community diversity and education. But to be able to travel to China with the group in 2010? To see faraway places around the world? That was an added bonus.
"I was very blessed that I was in the right place at the right time being in contact with the right people," said Soto about the initial days of her joining the choir. "It was not an accident."
Soto, now 20 and attending Ivy Tech after graduating from Carroll High School, is eyeing another eye-opening trip this summer, with Voices of Unity embarking on a European trip from June 29 to July 13 with stops in Hungary, Austria and Italy, including Rome and Vatican City.
The choir will then lead the musical accompaniment at the July 3 mass at St. Peter's Basilica in the Vatican.
Voices of Unity is looking to fund the trip for some of its members through the "Adopt a Young Ambassador" program. The focus is to put faces to the names of the kids set to travel overseas, many for the first time.
The effort is looking to raise $1,000 apiece for over 40 members of the choir. Donations of any monetary value are happily being accepted.
Voices of Unity have been utilizing social media to center on some of its individuals to increase awareness of the fundraising.
"I am excited because I never knew what the Vatican was until I heard we were going there," said 12-year-old Melanie Hollingsworth, who joined the choir last September. "Apparently, it is a big place with a lot of security. I also get to go to Venice, which I am completely excited about.
"I might be able to go on a gondola ride."
The cultural, racial and geographical diversity of the choir has been one of its mainstays over the last 15 years. Current members are stretched all throughout Northeast Indiana and Northwest Ohio, with 19 different zip codes represented among the choir's ranks. They meet weekly on the campus of Indiana-Purdue Universities of Fort Wayne, where the organization's operations rest.
To say the choir's members are excited about the upcoming trip would be an understatement.
"It's like a whole new, different feeling," Soto said. "I have never been to Rome and the Vatican so to be able to experience new things, the culture and interacting with people there will be really exciting.
Those interested in assisting the Voices of Unity Youth Choir with funds for their trip can call their office at 260-481-6719 or reach them via e-mail at nchapman@upaf.com.
Checks can also be mailed to the Unity Performing Arts Foundation, P.O. Box 10394, Fort Wayne, IN 46852.