Unity Superstar Spotlight Featuring The King Family
Meet the King Family

When Naomi King was first introduced to the Voices of Unity, she had no idea how it would impact her family's life. She had found the organization that would help her mold, empower and prepare her children for their future. Naomi's oldest son, Arriston, was in the choir from 2011-2013. Naomi says, "UNITY is a positive organization that is both substance and activity based."  She knows that UNITY has helped her children stay connected and allowed them to do things as a family along with her being able to network with other families with similar values and goals. Naomi believes that because of UNITY, her three daughters, Camille, Ani and Annalyse, are more confident, focused and driven and the girls all agree!
Camille King is a senior at Bishop Luers. She enrolled in the Voices of Unity Youth Choir and Expression Creative Writing Program in 2011. In the summer of 2017, she traveled to Bretagne, France where she stayed for six weeks speaking only French. Camille says that it was a great experience that VOU helped prepare her for by traveling with the choir. Camille is a 360 award recipient and a high honors student. She has spoken in front of her World Culture Club, started CASA at Bishop Luers, is the public relations officer for her key club and received a special certificate for having a perfect English ECA score.  Camille says UNITY is like her family; if she needs anything, it is there.  "It's my support system. Being in UNITY puts me one step ahead of 98% of my peers. It makes me confident in my future. I'm able to be happy for someone else's success as well as be able to speak and not be afraid to ask for help. "
Ani King also attends Bishop Luers. She joined the Voices of Unity Youth Choir and Expression Creative Writing Program in 2011. Ani had the opportunity to go to Haiti for two weeks during the summer of 2017 where she helped to paint a school and a church, delivered goats to villages, passed out water and built benches.  She is also is a 360 award recipient. She tutors French, is a student ambassador at Bishop Luers and volunteers for various organizations along with her sisters. Ani knows that UNITY has developed her as a leader and professional. Ani says, " UNITY has empowered me and improved my speaking skills. It has given me opportunities that I may not have had. I am more outgoing and go outside my comfort zone. UNITY has given me principles to live by. "
Annalyse King has been part of the Voices of Unity Youth Choir and Expression Creative Writing Program since 2012. She is currently in the 7th grade has star reading and math scores and is a straight-A student.  Annalyse reads at a senior level and tests at a junior level for math. She has tested higher than 95% of 7th graders nationally!  Annalyse says, " UNITY has taught me how to act and is preparing me for adult life. I can stay focused. Not only has my singing improved but I know how to stand still and present myself in front of people. I can apply Mr. White's life lessons to my life.
When asked what life lessons they have learned, they are able to say them without hesitation:
"Never say no to an opportunity to grow."
"Amateurs practice until they get it right.  Professionals practice until they can't get it wrong."
"Be a light, not a star." (Lights help people see their way)
"Start liking what you don't like and you may fall in love with it. "
"Find something you like and be positive."
"Never expect to make an impact on the world if you are influenced by the world. "
The King sisters definitely have aspirations to impact the world!  Camille wants to get her PH.D. and major in psychiatry with a double minor in Business and French. She also wants to study human or gender studies and law.  Ani wants to double major in public science and international relations, major in neuroscience, foreign language and learn other languages.  Annalyse aspires to be an engineer and invent a way to connect technology with the nervous system. She wants to find ways to invent and improve things.
All of the sisters are members of Voices of Unity and Expression, UNITY's creative writing program. They believe being in the organization together makes them accountable and can help each other. Ani says UNITY has helped them become more than sisters; they are friends. Mother, Naomi agrees. "UNITY is an awesome program for all ages and backgrounds."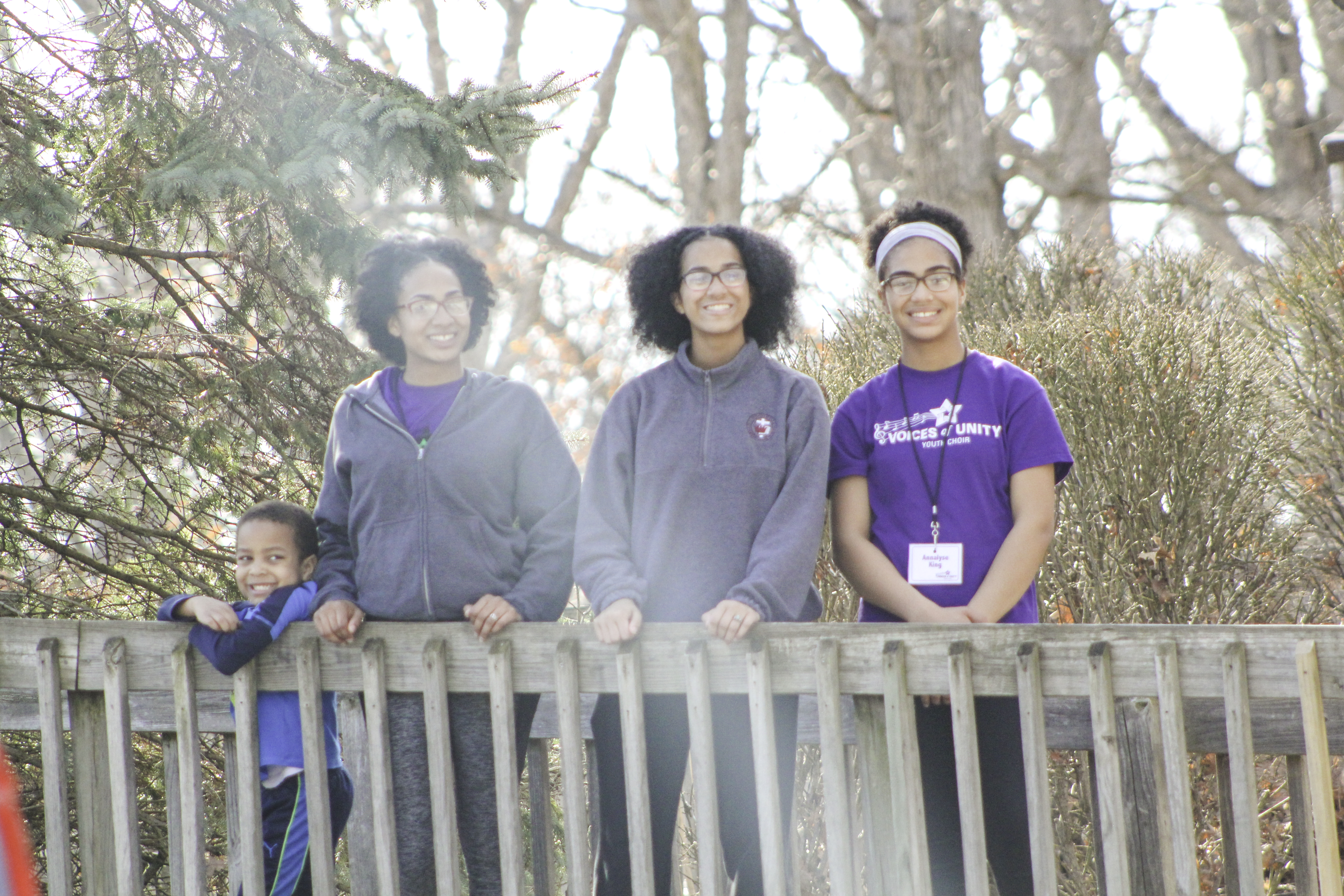 Brother Caeson is next to become a  UNITY member!  We can't wait to see how UNITY's environment, in conjunction with his family's involvement and support, will shape his future!