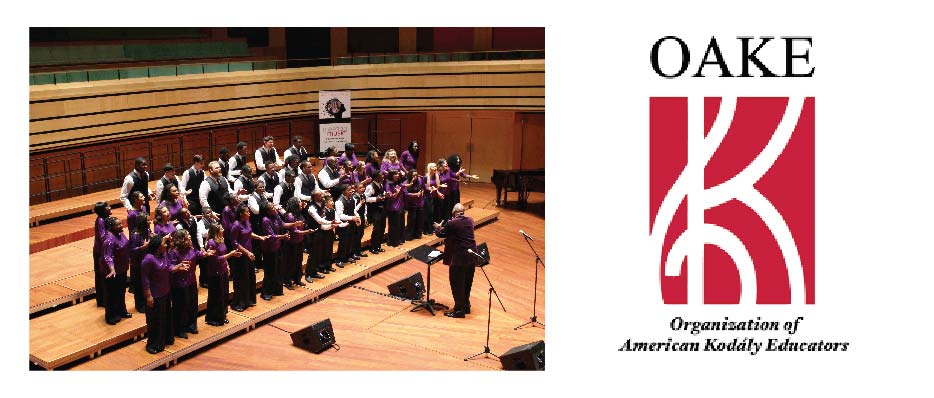 'Soul-Fege' Documentary Shares CCM Music Education Professor's Journey from Soulful Genres to the Classics
The Organization of American Kodály Educators recently released a documentary showcasing a collaboration between CCM Music Education Professor Eva Floyd and the award-winning Voices of Unity Youth Choir (VOUYC). "Soul-Fege" A Journey from Soulful Genres to the Classics shares the gospel choir's experience and Floyd's teaching techniques as they prepared to travel to Budapest, Hungary, for the 2016 Laurea Mundi International Honor Choir Festival.
Floyd is a specialist in the Kodály approach to choral music education, which is based on the internationally acclaimed Hungarian teaching system for music literacy and ear training. She used Kodály-inspired teaching techniques to show the youth choir how to bridge the stylist gap between gospel and classical music.
The Voices of Unity Youth Choir, which is based in Ft. Wayne, Indiana and directed by Marshall White, trained with Floyd for more than four months to prepare for the international honor choir festival. The singers were accustomed to singing "soulful" genres with intense expression, so, at first, they struggled to find how their experience could relate to the classical genre, Floyd says.
They found a common foundation for music making hidden in the symbols and vocabulary of the music scores, which they used as cues from the composer to help bring the classical pieces to life with expression.
"They began to embrace singing a new genre with ownership and pride," Floyd says. "Focusing on the expression markings in the music gave them confidence and helped foster a connection between reading music notation and singing with heart."
The choir was very open to learning new techniques and new repertoire, Floyd says. They became leaders at the honor choir festival in Budapest. Floyd says that one of her favorite memories of the collaboration is from a rehearsal in Budapest. When the conductor asked the choir about the meaning of the Czech folk song they were singing, a singer raised her hand and explained the meaning with pride.
"The choir was very apt at digging into the core meaning and message of the songs," Floyd remembers. "It was very important for them to sing with expression and emotion, and understanding the meaning of the text was the connecting point between singing soulful music and classical music."
Floyd teaches choral methods, literature for school choir, history and philosophy of music education and Kodály musicianship classes for music education students at CCM. In 2015, she organized CCM's first study abroad trip for the music education program, where students traveled to Budapest, Vienna, Salzburg and Paris on a 12-day adventure to deepen their appreciation and understanding of music. Floyd recently finished co-teaching a study abroad course "Vienna as a city of Music" with a mix of UC Honors students and CCM students, which she plans to offer again in two years.
The "Soul-Fege" A Journey from Soulful Genres to the Classics DVD-ROM includes preparation materials and lessons plans for the instructional unit Floyd created for the Voices of Unity Youth Choir. These materials can be utilized by any choral director who seeks to make classical music accessible to singers with a strong background in soulful music. The DVD is available for purchase through the Organization of American Kodály Educators website at https://www.oake.org/publications/.
"This experience has taught me that there are multiple pathways toward achieving artistry," Floyd says. "I hope to help my CCM students learn that music education is most effective when it is multi-faceted, as we have opportunities to reveal the joy of learning about music in a variety of learning contexts."
About Voices of Unity Youth Choir
The World Champion Voices of Unity Youth Choir (VOUYC) is Unity Performing Arts Foundation's acclaimed Youth Choral Program. It is the premier soulful choral group comprised of youth ages 7 to 19 from various backgrounds in the Fort Wayne community and beyond. The program's goal is to equip, educate, and empower youth to excel in the world before them. It prepares them to be successful leaders who will give back to their society and make a difference in their college life, adult life, and in their professional careers. Learn more at http://www.upaf.com/voices-of-unity/.